The votes are cast. All that's left is to jump in the car, hop on the train or fire up the battle bus for one last leadership road trip.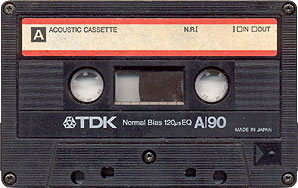 We asked the leadership contenders for their desert island discs. The eight tracks they couldn't live without. They tell you something about them, about where they're going and where they've been. So what better mixtape for the leadership groupies' journey to Manchester?
Grab yourself a couple of TDK 90s, squeeze into the car share, and hit the road.
Uncut – The road to Manchester
(You need Spotify to access this playlist. Unfortunately a few songs aren't listed.)
The candidates' selections were:
Harry Belafonte – Scarlet Ribbons

The Beatles – Things We Said Today

The Temptations – Ain't Too Proud to Beg

Bob Marley – Exodus

Buju Banton – Driver A

D:ream  – Things Can Only Get Better

Paul Roberts – Reflections in the Water

Ladysmith Black Mambazo – Nkosi Sikelel 'IAfrika

Elvis Presley – Can't Help Falling in Love – (live, Madison Square Gardens 1972)

Joshua Redman – Blues for Pat (Wish)

Herbert Howells – Like as the hart (St Paul's cathedral choir, Hyperion)

Spandau Ballet – True (12? version)

Bach – Partita No. 2 in D Minor for violin – Itzhak Perlman, EMI

Dolly Parton – I will always love you

Handel – Ariodante Act 3, Dopo Notte atra e funesta (Janet Baker, Philips)

Billy Bragg – Saturday Boy

How soon is now – The Smiths

There is a light – The Smiths

The Sick Bed of Cuchulainn – The Pogues

Dirty Old Town – The Pogues

Ten Storey Love Song – Stone Roses

Every day is like Sunday – Morrissey

Bones of you – Elbow

Protection – Massive Attack

Sting – Englishman in New York

Elvis Costello – Oliver's Army

Fritz Kreisler – Liebeslied

Sibelius – Violin Concerto

Shostakovich – Symphony No.10

James Taylor – How sweet it is (to be loved by you)

Elton John – Your Song

The Beatles – All you need is love

Paul Robeson: The Ballad of Joe Hill

Billy Bragg: A New England

Josh Ritter: Good Man

Hard Fi: Stars of CCTV

Housemartins: Caravan of Love

Robbie Williams: Angels

A-ha: Take on Me

Beethoven: Ninth Symphony